Syncing Issues – A Sidebar On WinMob devices the syncing software, an almost useless PC app called ActiveSync, allows no control over the syncing process and therefore gets any power user into trouble with duplicates, the bane of our lives. Much better, if you've a Mac, to invest in Mark Space's Missing Sync for Windows Mobile, which has just had a round of upgrades that cope well with the HTC Touch and other WinMob 6 devices. Those of us who fiddle around with Plaxo, Google Calendars, and other server-side apps and utilities really need to know what we're doing or we can get into the most awful pickle with our address books and calendars. Essential to have the ability to guarantee priorities and overwrites. Any Mac user who plays as much as I do has been forced to try every variation of Bootcamp, Virtual Machines and actual real, live PCs as a means of syncing and controlling their various SmartPhones. My conclusion is that as far as WinMob devices are concerned it's better to stay in Mac OS and look for iSync plug-ins and third party apps. Nokia and Sony Ericsson have reasonable PC Suite software that justifies a visit to a PC or via Bootcamp or Parallels for Mac, but with WinMob, stay away from the truly insulting feebleness of ActiveSync. I have spoken.
Sony Ericsson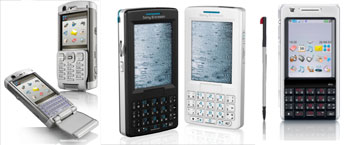 The very nice people at Symbian (the OS that arose from the ashes of Psion's EPOC, remember), hearing through a mutual friend of my passion for all things mobilic and phonular, sent me the new Sony Ericsson P1i, which is only just out in the world. It's pictured above there in the middle, between its parents. I've owned and used two P990i models (that's the daddy on the left) as well its forerunner the P900, the 910 and one M600i (that's the mummy on the right).
What the family have in common is their commitment to one of Symbian's two major platforms. I mentioned that Symbian as an OS had evolved since its EPOC days – the two chief sub-species are called UIQ and S60 (there's another called MOAP which needn't worry us, as it's only used in Japan so far as I can tell. As a matter of fact, it's my washpot) … if you try and download a Symbian application, WorldMate for example, you'll find it comes in those two Symbian flavours (as well as in Java and Palm and WinMob of course) UIQ stands for something like User Interface Quartz and S60 for System 60. Go figure, as they say in America. Well, Sony Ericsson in the "i" series of SmartPhones as shown above has gone big time for UIQ. Nokia, as we shall see, has thrown its might behind S60.
The 990i, when it came out to replace the 900, boasted 3G, a 2MP camera, WiFi, memory stick, bluetooth and a new rather impressive all singing, all dancing UIQ environment. But it was also big. Almost 1980s sized, or so it seemed next to the Slim Jims that were becoming popular amongst standard mobile phone users then (two and half years ago, a lifetime in this world), with a not very satisfactory flip phonepad which swung down to reveal a hideously unusable QWERTY keyboard. Full function wasn't possible with the flip pad up (although I liked its four-way navigation buttons, which complemented the left side thumb-wheel superbly), yet with the flip down in full-function mode you were staring at the waste of space offered by the awful keyboard and depending wholly upon the stylus and (admittedly impressive) handwriting recognition. Battery life was a joke (a major problem with UIQ) and worse still stability was a huge issue. This thing crashed more times than an Italian dodgem car; actually it didn't even have the dramatic wit to crash, it just hung and wasted your time. Plus it had an internet/access point/wifi set-up system that made you want to weep, stamp your feet and disembowel the team responsible.
But then along came the M600i (on the right above, also available in White, as used by Bond in Casino Royale). More elegant, pleasingly turquoise highlights, same UIQ GUI but this time a QWERTY keyboard in which each key does office for two letters (not unlike the slightly later Blackberry "Pearl" 8100, but with nothing like as elegant and useful an implementation). 3G, but without camera, so no videocalling, and no WiFi. Result? a slightly handier, but ultimately less function-rich object than its big progenitor, the 990i.