I LIKE IT! I really, really do. I can't explain why. It's the same UI, pointlessly (at first glance) doubled on both screens. No SMS threading (for God's sake!) Yet something about the layout and something about the feel (the actual object is really strong and has a satisfyingly robust heft) pleases me and draws me to it. Functionally it works a lot more easily than the UIQ devices, on which I have so reluctantly been forced to spit. It's hopeless with a Mac, but with a little smart to-ing and fro-ing you can transfer address books from a Mac-synced SmartPhone to the Communicator via Bluetooth, or you can bite the bullet and run the Nokia PC Suite on a PC, virtual or otherwise. (If you're going virtual, then do upgrade to the latest version of Parallels – they are eventually starting to get USB connections right).
God knows this is NO iPhone killer. But unlike the iPhone it does have something approaching a manageable filing system, Bluetooth that works, GPS, quick text entry via a keyboard (Steve Jobs here you are wrong, much as it grieves me to say it – more below), the ability to save and move around attachments, to download applications and to create documents. The battery life is hours better than on a UIQ Sony Ericsson, the response is quicker than a UIQ Sony Ericsson too (but then the response you get from a dead walrus is better than that of a UIQ Sony Ericsson) and quicker than that of an iPhone in some arenas. All in all a Good Product. I've been using it solidly for two days now (in harness with an iPhone and a BB 8800) and it has that indefinable quality that marks out a device one knows one could live with. The ancient Nokia virtues from way back are there – the power button that when swiftly depressed offers profile changes as well as switch-off, the network controls, auto redialing, straightforward navigation and good old infrared (bless). To this have been added the 3.2MP camera, a videocalling second camera, amusing 3D ringtones (the only concession to teenage silliness) good WiFi (though still only 802.11b and g), USB 2.0 and Bluetooth 2.0. Yes, I like it, but – as I say – iPhone killer it isn't. Which brings us on to the big beast.
myPhone • fryPhone • iPhone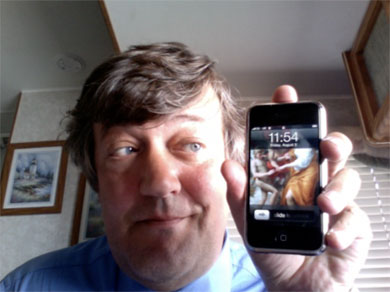 I'm not here to review the iPhone. Enough to say that in Britain at the moment, this extraordinary device remains one hell of a luxury. I have a full working model because, as a green carded US resident alien, I have an American bank account and billing address, without which AT&T authorisation would be impossible. It's not easy after that to persuade them to allow you an international roaming account either. Until the UK release one is functionally an American in Europe roaming expensively on inferior networks. I say inferior because the UK EDGE networks are a great deal slower than the US. I have no idea why, it's just so. My friends at Apple say there is much to be done to ready the iPhone for its projected late 2007 release over here. Perhaps it will be delayed. You see me above in my trailer, between scenes, making eyes at the device. To get EDGE in Norfolk is feat enough, believe me.
I hereby offer a few remarks – to show that I am not in Apple's fee, and do have a totally independent way of looking at these things. There are issues. Problems. They've been gone over before but I'll outline my sense of what needs looking at.
Server side apps only. No, no, no, no, no. This is NOT good. It's one thing to want to keep the proprietary system closed, but to present a device sealed in digital Araldite is a Bad Idea. An Ubuntu flavoured Linux for mobiles is in the works, and you don't get more open source than that. Damn it, there's Linux for the Palm available these days. Even Microsoft are making gestures towards client-side open source apps. Only amateurs are going to want to create server side apps for the iPhone. In case you don't know what I mean, I should explain that the only third party programs available for the iPhone are run out of Safari (the resident browser) pages. You can't download squat. Enthusiastic individuals will come up with WorldMate or Splash Photo or other top ten smartphone app lookie-likies but until Apple introduces a Java implementation or allows the bonnet to be unwelded and lifted up, the device will remain a fraction of what it should be.