Text entry. I'm sorry Steve, but physical keyboards are okay. They're fine. When in your iPhone introductory keynote late last year you dissed the stylus and keyboard, you may have noticed a deafening silence as tumbleweed and sage-brush whizzed through the hall. It is certainly true that the virtual kb used in the iPhone gets better the more you use it. It is also true that the glossary autocorrect system is immensely impressive. But I challenge anyone to type an email as fast on an iPhone than I can on a BB or Treo. I assure you it can't be done. I'm pretty quick with an iPhone now, but nonetheless text entry just isn't as satisfying as everything else about the device. It's an example perhaps of ideology overcoming practicality, as in the early days of the single click mouse. Don't be stubborn about this Steve, you know I'm right, as in their heart of hearts do the guys at Cupertino. Hence the lack of Quicktime movies on the Apple site showing happy users typing proper length emails and texts. Why else is the only footage of text entry hurried and very much on the short side? Because they know … they know perfectly well it's a drawback.
Bluetooth? It might as well not be there.
D'loadable ringtones? C'mon.
Mail attachments? See and touch but can't download? No, no, no!
 And yes, it should probably be 3G. A power consumption issue mostly, no doubt, but one hopes it'll be addressed over the next few digital years.
Three months, by my reckoning is a digital year. Or to put it another way, a human year is four digital years.
But that's about it. Everything else in the iPhone lives up to, even surpasses the hype. Another triumph for Jonathan Ive and his design team, Apple have made a wholly desirable and beautiful object. Only a cross and silly person would pretend to be unimpressed or make claims of parity about their O2 xda Trion or similar lumpen beast.
My guess is that iPhone 3 is going to be closer to the Dynabook than anyone dreamed possible. It's a small wait by anybody's standards. Except mine. Except the standards of the impatient early adopter.
I might as well end with a wish list.
Someone to take the UIQ platform and give a bolt of lighting. The Palm OS to receive ditto. The iPhone to open and expand. D'loadable ringtones? C'mon, Apple, you can do better than the sop you've thrown us with the latest iTunes release. You wouldn't want to look greedy would you?
For me it's an addiction. Swapping SIMS, syncing, testing, probing, playing. I can't pretend I've any higher purpose. What cars are to some, SmartPhones are to me – much, much more than just a functional tool. We live in the age of these devices. It should be the age of the greatest imaginative drive, flair and creativity in the digital arena. I am disappointed that not everyone in the industry sees it that way.
As the General Confession in the Book of Common Prayer has it, "I have followed too much the devices and desires of my own heart." Amen. © Stephen Fry 2007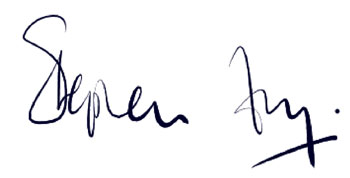 Post script. The forum is also a great place to express your views