All the big guns want an iPhone killer. Even I, mad for all things Apple as I am, want an iPhone killer. I want smart digital devices to be as good as mankind's ingenuity can make them. I want us eternally to strive to improve and surprise. Bring on the iPhone killers. Bring them on.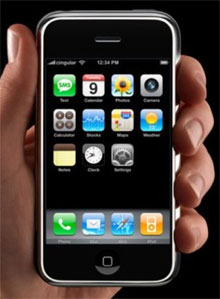 YOU might, somewhere along the way, have picked up the impression that I am a passionate Mac advocate: I bought my first 128K machine in 1984, the second Macintosh to be sold in the UK – at least so I've always maintained and believed (the first went to the still desperately missed Douglas Adams) and I have never had fewer than ten working Macs on the go since the late 80s. It is true that I value both the platform and the hardware, that I admire the imagination, flair, elegance, quality and pioneering spirit of the Apple corporation. All quite true.
HOWEVER……..
I have, over the past twenty years been passionately addicted to all manner of digital devices, Mac-friendly or not; I have gorged myself on electronic gismos, computer accessories, toys, gadgets and what-have-yous of all descriptions, but most especially what are now known as SmartPhones. PDAs, Wireless PIMs, call them what you will. My motto is:
I have never seen a SmartPhone I haven't bought
After all, the Mac itself was founded on a notional smart device, the Dynabook, fruit of the many brains of the legendary Xerox Palo Alto Research Centre (PARC). The Dynabook concept gave us the WIMP user interface, (Windows, Icons, Mice, Pull down menus) and thence the Apple Lisa and its successor, the Macintosh. The Dynabook was a posited form, a notional device that would deliver information to its user with the greatest ease and intuitive functionality. As a result of this mission statement, the command code line found in all standard computing of the time was made to yield to a Graphical User Interface (GUI). Apple took up the call (poached some PARC staff) and produced the Mac OS; IBM and latterly MS took years and years to get the message. But that is how the GUI was born, out of a quest for a better relationship between man and machine, individual and digital device.
Whether you talked into it, stroked it, operated a stylus or pointing device the essence of the Dynabook was not that it might actually be built (technology in the 1970s couldn't begin to provide such an object, nor indeed can it now) but to predicate a useful Platonic Ideal. The Device. The Chosen One. One Electronic Object To Rule Them All. Like any Platonic ideal, it cannot ever exist: to postulate its existence is enough to set clever people on the right path to creating remarkable technologies that contribute to the digital world and our interactions with it. It is in this sense the computer designer's Holy Grail – the adventures, romances and interior quests along the way are what counts – the Grail itself will always be out of reach. We are getting closer however. A single handheld device that can summon up a vast repository of human knowledge, communicate with anyone, tell you to within five meters where on the planet you are, take and show photographs, record and play music, send and receive vox or data communications; a device you can speak into and that can speak to you, a device that you can manipulate without fiddly controls or technical knowledge, a juke-box, a cinema, a radio, a library, a community centre, a parish pump, the school gates and the city university. Not considered to be computers, although computers is most assuredly what they are, these devices are for the moment designated SmartPhones, and it is on them that I wish to discourse and expatiate in an entirely disinterested (if you think I mean uninterested, think again and look up the difference) and mostly non-technical way.
Of course, this essay, if it can be described as such, is a response to the rise and rise of the SmartPhone, as most publicly trumpeted a few weeks ago with the arrival of Apple's iPhone. I am not here to laud or review that device however, it has had enough publicity and I really want you to believe that, Apple addict as I am, my eyes have always been open to the virtues of anything good, exciting, functional, elegant, pleasing to use. In fact the real precipitating reason for writing this is the fact that within three weeks I have bought/been sent, aside from my iPhone (which, yes, I dearly love), three soi-disant 'iPhone killers' – the HTC Touch, the Nokia E90 and the Sony Ericsson P1i. While I don't intend fully to review, road-test or benchmark each device (as if I could, anyway), I do want to share my thoughts about where these devices appear to be going. (I'm not even going to mention outside these parentheses the LG Prada phone, that's an iPhone beater in the same way Tim Henman is a Federer beater).