Let's agree to disagree
For a Labour voter to hate a Tory voter or vice versa is for us all to stumble into the revolting and nonsensical little-endian big-endian madness that Swift pilloried in Gulliver's Travels. Let me say here and now and beg you to believe that some of the people in the world I most love, reverence, adore, admire and respect will be voting Conservative on Thursday. I grew up a Tory, I spent my childhood summers at Conservative fêtes and whist drives and dinner dances. I thought anyone who voted Liberal, let alone Labour, was creepy weird and horrifying. At some point the wind changed. The wind's name was Margaret Thatcher, but we won't go into ancient history. All the vices I once attributed to Labour — vulgarity, meanness of spirit, lack of warmth, sympathy or lightness of touch — I now attributed to the Conservatives. I went so far as to join the Labour Party, to write speeches, or parts of speeches, for Neil Kinnock, John Smith, Tony Blair and Gordon Brown, all of whom I met and liked. Mind you, I met and liked John Major and plenty of Tories too. I'm a whore when it comes to meeting and liking people. It is most annoying to have one's prejudices overturned by real life. However one thing has remained constant in my political affiliations, and that is a deep contempt and fear of tribalism.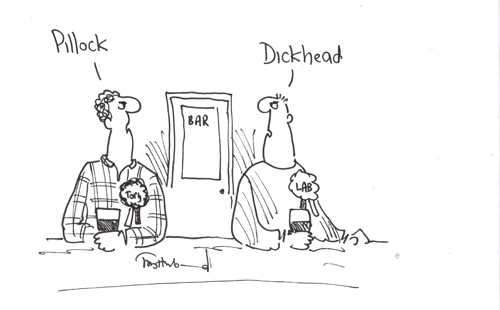 © Tony Husband 2010 for Stephenfry.com
When I meet a Labour voter who can only hiss, stamp and fume at any Tory, or a Conservative voter who can only jeer and condemn a Labour voter then I bridle, bristle and simply writhe with indignation. Let this be known and celebrated: we all have the right to vote the way we want. We all have our reasons and motivations and they do not justify anyone insulting or reviling us. Actually, the fact is that 'reasons' is probably the wrong word, for we are all (or almost all) energised in politics above all by feelings, by loyalties and deep turbulent emotions that bubble down in our depths. These have far more influence upon our political 'views' than rational and logical considerations. There may be those who are capable of carefully and objectively weighing the qualities of each party's policies and coming to a voting decision on that basis, but I have yet to meet such people. We all know we should be like that, but we all know that we should only put into our mouths what reason tells us is nutritious, calorifically justified and environmentally sustainable. We eat by appetite, emotion and desire and we vote according to criteria of loyalty and connection that are much closer to the support of football teams than to rational assessment and analysis. And, of course, we respond to the personalities that are put up in front of us. I have yet to find anyone who is not influenced by personality. Only, being humans, we are all hypocrites, and we accuse those who dislike our hero or admire our villain of being the ones who succumb to the cheap allure of personality politics, we of course, are immune. Of course, so deep run our alliances that we impute good qualities to personalities we would otherwise not warm to and see ghastly characteristics in those whom we would probably like in real life, if only they were not from the Other Side. What we cannot bear is when someone from across the political divide from us is obviously believable, likeable and reasonable. That is when we accuse their supporters of being victims of personality politics and the individual in question of being 'a media creature'.
If such innate tribal fixity was wholly the case then Gilbert and Sullivan would be right and that Nature really does contrive that 'every boy and every gal that's born into the world alive is either a little Liberal or else a little Conservative.' We all know that, aside from those so ingrained in loyalty that they simply could never vote outside their born or acquired adherences, there are such creatures as floating voters and that they are the ones who determine electoral outcomes. I find, for the first time in thirty years, that I am one such.