More important than my own political views or my own voting intentions are my hopes that nothing I say will stop you from choosing Conservative if you consider it the right way to cast your vote. It may be you will be voting Tory through dyed-in-the-wool instinct and loyalty or it may be that you are someone who once voted Labour or Lib Dem but who has decided that Cameron and the Conservatives will be best for Britain. It's none of my business, but do vote just as you want and be proud to do so.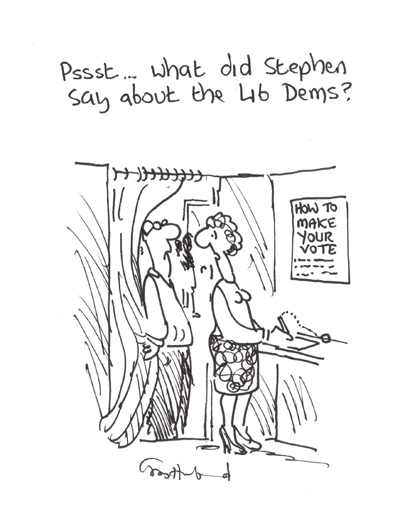 © Tony Husband 2010 for Stephenfry.com
As for me, I am still hovering between One and Three and I suspect I will not be sure until I am actually facing the voting form, Sharpie in hand. (Will it be Sharpies? I do hope so. I virtually addicted to their fumes)
I know that the above may please no one. Some will despise me for failing to condemn Conservatives more outrightly and fervently, others will think that I'm a stupid lovie pinko who should shut the hell up. We can all agree I hope that my views are worth no more (and no less) than yours in any sense, but especially in the sense that counts — in the polling booth.
A final plea
If you wish to avail yourself of the commentary option below, please remember to be considerate, understanding and democratic in spirit. By all means tell me why I should vote Conservative or UKIP or any other way, but do so without rancour, resentment, spite or viciousness. Trolling is the internet's cancer and its lethal metastasising horrors have no place here. Go to other political blog sites or newspaper comment areas if you want to be splenetic and loud and mercilessly abusive. Not here. Please.
Above all. Vote on Thursday!
Wednesday 12th May 2010. Comments are now closed for this blog. Thank you for your contributions.
Producer.