There may be a short delay while the video loads.
Location: London
Stephen Fry, Biz Stone, Founder and Chief Executive of Twitter; and Reid Hoffman, Founder and Chief Executive of LinkedIn will discuss the phenomenon of social media and its future impact.
You can also join the conversation by posting a question for any of the speakers – all you need to do is add #svuk to your question on Twitter.
This event forms part of NESTA's Silicon Valley comes to the UK event programme.
For more information: http://www.nesta.org.uk/assets/events/social_media__a_force_for_good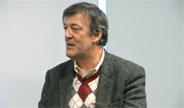 Close SEND TO A FRIEND
To send a link to this page to a friend, fill in the following form, and we'll do the rest.