Here's great game I've lifted from the Mail Watcher website.
You follow the three steps below to generate a random album cover.
First:
1). Click on the link below. The name of the first article on the first page is the name of your band (or your new artist name):
http://en.wikipedia.org/wiki/Special:Random
2). Scroll down to the last quote on the page that this next link leads to. The last four words of the final quote are the album title:
http://www.quotationspage.com/random.php3
Lastly:
3). Click on the last link. The third picture on that page, no matter what it shows, will be your album cover:
http://www.flickr.com/explore/interesting/7days/
Then you put them all together to make your band's album cover. (You don't have to worry if you don't have Photoshop or any other fancy software to do it with, I didn't either).
I did it, and this was the result: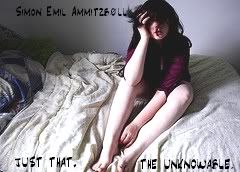 Scandinavian...possibly Danish. I'm sure there are others here who could come up with much better looking efforts.