Hey gang. Sorry, but the number thing is over. Finished with. Done over. Finished and done with. Finished. We'll play it again. If you're lucky
Ummmm.....
I've missed something with the numbers.
Episode numbers? Scenes?
Something totally random?
Basically, it was how my Photobucket account is arranged. When someone picked a number, it corresponed to a BOFFLE episode, for example. Or Jooster, or whatever I happen to have Stephenwise. And the other numbers dealt with which cap to post.
In re: Stephen's coif. I don't like it slicked back. It worked with Jeeves, but that style has a connotation of arrogance IMHO. And if it's combed back, there's no need for him to do the delicious finger-hair-brush which makes me wiggle.
In re: sexy. Homeboy just got it goin' ON! When Jude Law made a comment a few years ago about Stephen being the best on-screen kiss he ever had because Stephen's lips were so soft, um: ASDFOMGGADPG0H09HV0SPLAT. And I have a thing for nerdy, erudite, refined, chubby, gentle, British gay men. And he has a fantastically spankable arse.
Which brings us to today's pic.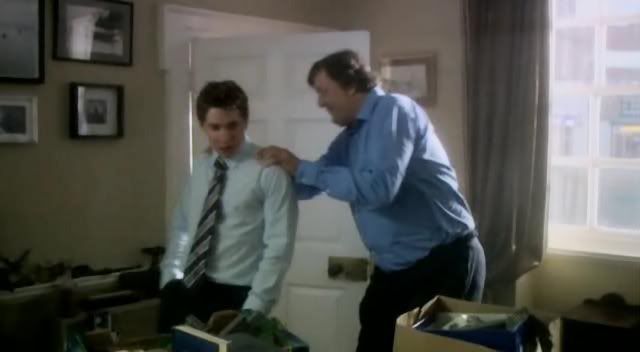 I'd love to get man-handled by Stephen.

I think of myself as someone who is filled with love, whose only purpose in life was to achieve love. - Stephen Fry