So we'll leave Palm, hoping that they won't be squeezed out by the big boys and by their own suicidal tendencies. They have no iPhone killers at market as I write. We'll believe in the idea of a Treo 800 when it comes. If they upgrade the OS, fully commit to it and ditch nonsenses like the Foleo I see a real future for Palm yet. Admittedly it has barely penetrated the European market, but worldwide and in the USA especially it has a real presence and a strong and committed user base.
HTC and the No-Win Mob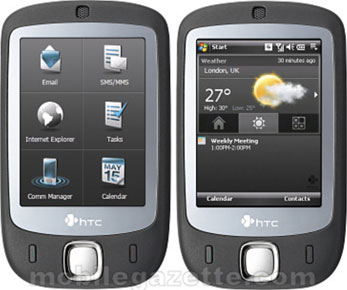 Let's look at the WinMob now. The HTC Touch is called (by idiots) an iPhone killer because it comes without a keyboard and makes a brief and rather feeble nod towards the idea of a strokeably operated touch-screen offering a silly cube transformation effect with big buttons. Oh, and the Touch is WinMob 6 rather than 5 (you won't notice the difference – a quite cool coloured line fribble in the agenda which shows you which days of the week are busy is the best addition, otherwise it's virtually indistinguishable from WM5). In theory you can remove the SIM card without dislodging the battery, but in practice springing it out causes a reboot anyway. But that's it, 2MP camera, no to 3G, WiFi/WLAN capable. The thundering nuisance of the Touch is that it encourages one to use the side of one's thumb, the fat of one's finger, one's nose etc etc, all of which work with the big buttons – but when it comes to text entry and innumerable other choices, sure enough, the old thumbnail has to be ready to go behind and hoik out the stylus. It is not badly designed at all, most people who have seen me playing with it are impressed and want one, which is some kind of a test, I suppose. The front page weather app is pleasing (owing a lot as it does to Apple's bundled Dashboard widget, see the pic above). Otherwise the Touch is nothing like as good as the HTC 3600, which is a true 3G, inbuilt GPS, elegant, keyboardless device of more power, flexibility and purpose. Far and away the best WinMob device I've seen, it's good to look at, reliable and genuinely usable. Input, as with the Touch and all WinMob stylus devices, is via a choice of handwriting recognition (including the old Palm Graffiti rebadged as Block Recognizer, which competes with a virtual keyboard and two other systems). HTC are bringing out a 6300 (aimed at "enterprise solutions," yawn, yawn, yawn, yawn, yawn) which looks identical to the O2 and Orange badged versions of these things, a Windows button, an OK button etc., dull silvery finish, the usual bad design that "corporates" always seem prepared to put up with, as if they're embarrassed and ashamed by any stylishness which might draw attention to them. The SmartPhone equivalent of living in a block of modern flats. Most mod cons, but no style, delight or emotional attachment to be had. Windows for Mobiles is certainly better than Windows for PCs or, God help us all, Vista, but it is still an insulting offering. The feeling, as with all things Microsoft, is that all design features and functions are there to suit MS rather than to delight, enthuse and compel the user. Compromise, short-cuts, inconveniences, vestigial residues – no one responsible is likely to pat themselves on the back for the design or the s'ware engineering, any more than the architect or project manager of a 60s council flat is likely to point it out with pride as he rides by with his grandchildren. You're only on this planet once – do something extraordinary, imaginative and inspiring. That's the difference, ultimately. Those behind Palm OS and the Psion can justifiably be proud of what they did, what they created. WinMob just muscled in on a market they never spotted and they did it in a clumsy, bullying, ugly manner, exactly as they had with Windows before, and exactly as IBM had with the PC itself a decade earlier. Break free, all you corporate software engineers and designers: the excuse that you are under the rule of dullards, greedy share-price number crunchers and visually and ergonomically illiterate yahoos is not good enough. Persuade them. Otherwise we all get a digital environment that's a vile as a 60s housing estate.