Your Royal Highness, Your Grace, My Lord Bishop, Your Excellencies, Honoured President, Academicians, Lords, Ladies, Gentlemen, artists, art lovers, friends, trustees, donors, distinguished guests and assorted media scum. I rise to my feet on this occasion with a due sense of the honour that has been accorded me and not a little fear and an – I hope – becoming sense of unworthiness. For I am not an artist. Those of you that are artists are the most important people in this room. I do not say that out of sycophancy, it is in this academy a constitutional fact. There are many societies and institutions in Britain where you as artists would come lower down the social order than estate agents, debt collectors or even television actors and bankers, but not here. In the press, in much of television, in bars, clubs and workplaces all over the country artists only usually feature in conversation when they have been committed some perceived outrage against public sensibility, gullibility or decency. Otherwise they are grudgingly tolerated, faintly patronised, clumsily misunderstood or cheerfully ignored. I cannot speak for artists in knowing whether this is a good thing or a bad, some of you may prefer it that way. And of course no one of you can speak for all artists, for if ever there were a diverse collection of recalcitrant, cussed and bloody-minded individualists it is artists: one artist alone is a political party, two artists together are a rebellion, three artists in the same room are a civil war…. But my point is that whatever the position of the artist in the wider world, your position here is paramount. The administrators, financiers, public figures, the great, the good, the donors, the supporters, the mighty, the famous and the fabulous here are all in this place your submissive underlings.
To have been appointed a Trustee of this glorious institution I count as one of the great honours of my life, a life spent looking at pictures and art works with the deepest pleasure but also often with the deepest embarrassment. I will return to the question of embarrassment in a moment. First I want to summon to the feast a figure who is never far away when we talk of art, but is especially close on this exact occasion. I expect you are all familiar with the 1881 painting "A Private View at the Royal Academy" by William Frith. It depicts this very evening, the opening of the Summer Exhibition, 130 years ago. If you don't know it, you can see it here in the John Madejski Fine Rooms, where it hangs. Frith depicts the fashionable, the artistic, the grand, the curious and the august all gathered in this very place in that High Victorian summer: they are looking at pictures, but mostly of course they are looking at each other, and many of them only have eyes for the one figure who dominates the canvas. He is a tall, elegant and charismatic young man, with a lily in his buttonhole, a catalogue in his hand and a look of unembarrassed and unselfconscious assurance in his eyes. He is of course Oscar Fingal O'Flahertie Wills Wilde.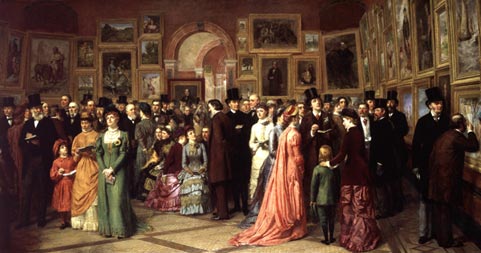 Who was Oscar Wilde at that moment? His collected poems might have been moderately well received that year, but he was only two and half years down from Oxford, had written no plays, no books and no essays worth noting. Despite this and by virtue of personality and influence alone he was already famous enough to have inspired Gilbert and Sullivan to write Patience, an operetta that poked fun at him and his circle. And he was well known enough to dominate Frith's enormous canvas. He occupies so important a position in the painting because he was one of the first figures and certainly the most articulate, to raise art from a hobby, a taste, an enthusiasm or an extra in life, to the status of a moral philosophy: he privileged art as the primary and central mode of human expression, the shortest path to the truth and to happiness, the highest and most important pursuit, calling or achievement to which humanity could aspire. But of course the more important art is to us, the more self-conscious we are when confronting it.