Winning poster for Stephen Fry Live! More Fool Me show
We're delighted to share the winning poster design for the launch of his Stephen Fry's new book and live show, today.
The winning poster was designed by Daniel Weatheritt, an artist and designer based in Northumberland, and can be viewed here.
The global contest ran on Talenthouse, an online community of creatives that offers life-changing opportunities for artists, and encouraged designers and illustrators around the world to create a poster to represent the essence of Stephen Fry.
The winning design was judged by Stephen himself and representatives from Penguin Books, ad agency Target Live and Picturehouse cinemas.
Daniel will receive £1500, global exposure for his design, and a printed copy of his poster signed by Stephen Fry.
The poster is for the Stephen Fry Live! theatre tour that begins next week to coincide with the Stephen's third autobiography More Fool Me.  It will be displayed at the venues including London's prestigious Royal Festival Hall, and across Stephen's own social channels, reaching an estimated audience of over 10 million people.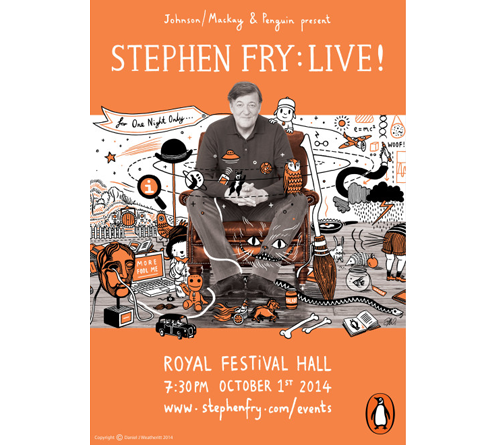 Maya Bogle, co-founder of Talenthouse, said: "The quality of entries submitted via the Talenthouse community is quite remarkable but there had to be one winner and Daniel's design is brilliantly intricate."
Daniel's love of drawing started at Northburn First School Wildlife Club in Year 3. Shortly afterwards, he began self-publishing comics which became an important precursor to a life-long fascination with image-making and all forms of design.
"My Stephen Fry poster design is inspired by a love of vintage Penguin Book covers," Daniel explains. "I have used a limited colour palette and incorporated as many Stephen Fry references as possible into my illustration, creating a comical and slightly surreal scene. All my drawings are created with a dip-pen and all typography on my poster is handwritten."