One more thing: I'm writing this in short bursts of time between filming in the middle of rural Norfolk, where GPRS, let alone EDGE, is a rare, momentary treat. This means I haven't been able to check up on all my facts all the time: sometimes a tethered modem DUN connection allows me to jack into the matrix, but mostly I'm in a field fondly fingering a phone. There will be errors here. Forgive me. This is a blog, not an article and I haven't time to get home in the evening and do much more than check the hyperlinks, such as they almost randomly are. You aren't paying for it. I'm human. So, let's slip in a SIM, power up and see what happens.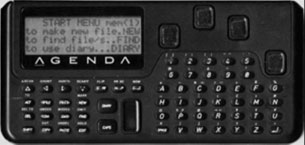 My obsession with SmartPhones began many, many years ago. Certainly well before such devices existed in the real world. From the first Sharp contact-and-calendar "electronic organisers" , through the early Psions, the sadly missed AgendA (see above: no QWERTY there, more a kind of weird courtroom stenographer's chord-based input pad: never have I been able to write faster than with that splendid object – I had another device using the same input system called, I think, Qinky, which connected to the Centronix port of a BBC Micro), to the opening salvo of Palm Pilots, Apple's Newton and the arrival of Handspring. If they existed I had to have them. Had to. Some could be used with a phone: they might generate dial-tones for example, or somehow, like the later Psions, come with the optional extra of an infrared modem that could shake hands with a Nokia mobile phone and put one on the path to something approaching what today we might call a SmartPhone experience. Those infrared modem scripts still lurk in the system preference and plugin files of even the most up-to-the-minute computer, like a Kodak Instamatic in the back of a drawer. Obsolete, but too charming to throw away. And you never know – one day you might just need them …
There is always, in the way of these things, a model that's just right. The Psion 3, the Treo 180 – such close-to-perfect devices are always overtaken by newcomers that arrive shimmering with newer technology and higher functionality but don't do what they do as satisfyingly, as perfectly, as their predecessors. The brilliant Psion 3 was superseded by the inferior 5 series and then the not-quite-up-there Revo (which I helped launch, I have to confess: maybe my fondness for the Series 3 is felt for the Revo by these people, they certainly seem very keen), and pretty soon it was goodbye Psion plc. Another pioneering British company founds a whole niche and then bites the dust.
But Psion, British, innovative and doomed certainly, did leave the world a lasting legacy aside from the new marketplace itself – an operating system that still does its stuff in over a hundred million phones. Originally called EPOC, its ARM processor power (it addressed more bits in its day than most people's PCs) and simple elegance has evolved into the complex organism known as Symbian, like Bluetooth a largely Scandiwegian/Japanese co-owned entity.
In the years that followed the demise of Psion and the to-ing and fro-ing of Palm, (the US early leaders in the field), a number of things happened. Cellular telephony went from GSM to GPRS to EDGE to WCDMA, HSDPA, UMTS or whatever we like to call 3G these days. Microsoft introduced a cut-down Windows for PDA/SmartPhones, one with stylus operated touch-screen, one without, the RIM Blackberry came on the scene with its business oriented push email and the whole market went from niche to general. Bandwidth and memory ceased almost to be an issue and those of us who had once spent hundreds on a 256MB Compact Flash looked in amazement at the cheap 2Gb thumbnails hanging in blister-packs from any old airport Dixon's.
Palm split itself in two, reluctantly (IMHO) retaining the Palm OS in the shape of the excellent 650 and the wildly disappointing 680 and allying itself big-time-stylie with Windows Mobile, all of which devices (again IMHO) more or less stink. Since then, in one of the most astonishing public suicide attempts in the history of this industry, Palm have produced a item that EVEN I DO NOT WANT, the Foleo. If it's got a chip in it, and a keyboard, and WiFi and a screen and I haven't sent off for one, then by God you'd better believe it's in trouble. Though mind you, knowing me, I probably would have bought one in the end. Palm, however, have come to their senses, swallowed their pride (and $10 million) and ditched the dreadful thing, as their CEO's blog recently revealed. Maybe Palm have finally realised that what those of us who have used, abused, loved and lived the original Treos yearn for is a fast 3G, WiFi and FULLY PALM OS Treo 800 or whatever they'd want to call it. The newish 755p would be an acceptable stopgap – high speed, better battery life, keyboard response and imagination behind it than the pitiful 680 – if only the damned thing weren't tied to the CDMA EvDO protocol, which is useless in Europe. Give us our Treo 800p, GPRS/3G phone and we will love you for ever. For the Palm OS, ageing as it is, still has something of an edge over its competitors. Superb address-book design and functionality (still the quickest way, from the draw, to find a name out of 2,000 and call it, text it or email it on any device I've ever seen, is on a Palm. Blackberry comes a pretty close second in my unscientific tests), next there is its sheer speed as a GUI. Never a hint of a screen redrawing, never any lag (not counting the 680's irritating address book line drop – if you've got one you'll know what I mean, if not, it's too complicated and dull to explain), this is a stable, lightning-fast OS (as unlike Windows for Mobile or Windows for SmartPhones as you can imagine, therefore). Add to this the inestimable pleasure and benefit of SMS threading (it simply STAGGERS me that no one until now, with the arrival of the iPhone, aside from Palm, offers this, to my mind, essential feature, something that's been available on the Treo since the get-go), a good Today screen, fabulous speed-dialing options (including one button URL and texting – great for AQA, for example) and related calendar functions, simple flexible bluetoothing (though it's a bugger to get one to work with a Tom Tom or similar in-car B'tooth device), all the media requirements, a really fast keyboard which (surprisingly, for it looks fiddly) allows about the same text entry speed as a Blackberry 8800, superb syncing with either PC or Mac, neither favoured over the other, and you've got the ideal package. It's been around a long time, a very long time for the digital world, testament to the imagination, foresight and brilliance of its first engineers and designers. But that also means that the old girl is showing her age. I've been syncing, disabling conduits, deleting unwanted duplicates and generally faffing about with Palm devices for well over a decade and I have a very, very soft spot for them. How dumb of them therefore to reduce the quality with the 680. Worse battery life, no longer the inestimable pleasure of an exterior SIM slot, irritating reassignment of keys, slow boot up time, absence of reset button – etc etc etc.