AND THERE'S NO OFFLINE MODE!!!! A SmartPhone that insists you have a SIM card in at all times? Just bugger off Sony Ericsson, you've lost my respect. You've had thousands of pounds out of me in the past. But stick to student mobile phones called Kxxx with crap silly little jukeboxes on them, SmartPhones are out of your league. If you're going to use UIQ, then take a leaf out of Motorola's book and apply it (in a newer version, Symbian 9.2, UIQ 3.1) to a teen phone, like the excellent new Z8. Either that or do the real design work and make a proper SmartPhone, not this insulting halfway house. As it stands, the P990i is a better phone that this P1i – it has all the same faults, but at least its double action transformer style flip makes it more usable.
"Please Steve Jobs. Eat us for breakfast. Make us look slow-witted, clumsy, unimaginative, grey and idiotic. Help yourself to the entire market that isn't Blackberry, we don't want it. We'd rather make toys for children and knock-off Macbooks for credulous adults. And somebody might buy the P1i if they want a slow, joyless experience. You never know. And anyway Apple cheat by having better products, which is unfair. We were once Sony. Goodbye cruel world."
I could scream with vexation. This truly is NOT WHAT I WANTED. I don't know how many times I have to say this for you to believe me, but I want iPhone killers. HTC haven't done it, Sony Ericsson have rolled over and asked to be kicked and shagged roughly, so what of the Big Finn? What of Nokia. Perhaps they can come up with something? Forward the E90.
Nokia E90 Communicator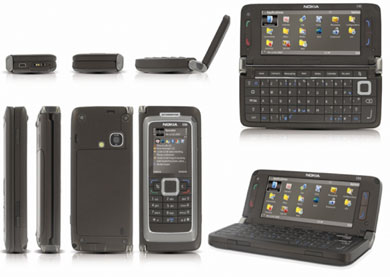 I have owned at least one of every Communicator since the brand arrived in the shape of the 9000 in … well it must be over ten years ago because I had one when I was making the film Wilde in 1996. I remember being upbraided for having it poke out of the top of my velvet jacket in one of the courtroom scenes …
What a breakthrough it was (the phone, not the film). Black and white originally, but with some very advanced features for the time. I was recording silly high quality ring tones at a time when everyone else was monotimbral, monophonic and tinkly. It was big, but it was powerful and a wonder to use. The 9 series line (running an operating system called GEOS) was slowly upgraded with the 9110 and I think another (the 9200?) until the more modern, Symbian 9500, and 9300/9300i, the latter two without camera, but smaller and neater.
And today (almost literally today) comes the E90 Communicator, a brick dressed in Symbian S60 cothes. The "E" designation is revealing. Nokia have had a dismal few years in which hardware design has faltered appallingly (my dear, have you seen the E61 and E61i? possibly the ugliest objects ever designed by man. Simply disgusting to look upon, handle or use) but another arm seems to have branched out with better design. The N95 is beautiful, really lovely and very powerful. Shame that it uses a standard telephone keypad, the N series are really multimedia toys for adolescents, aimed I would guess at the Sony Ericsson K and W series. And then there is the wholly gorgeous 8600 Luna, an indulgent chocolate-box of a mobile phone. As they say in Australia, "ideal for gift-giving interstate or overseas."
The E series models use an especially clunky and unsightly family of icons (rather like Vodafone's dreadful offering. If you want to uglify a Blackberry 8100 or 8800, a hard thing to do, use the proprietary V'fone theme set. Yuk. They impose it on all their badged phones and it smells). In the E61s which are so fuck-off ugly that you stretch your eyes and wonder at who on earth is running Nokia, the addition of an ugly GUI is enough to tip the whole thing over the edge. Not just an repellent concrete house, but one filled with disgusting furniture. In the case of the E90 Communicator, you have a rather pleasing house (I know, I know, beauty is in the eye of the beholder, de gustibus etc. but take it from Mother, the E90 is pleasing in exactly the way the E61 isn't) which somehow exonerates the UI. The E90 is thick-as-a-brick, expensive (ex-contract as an offline purchase it's well over £600. Or maybe they just saw me coming) and yet …