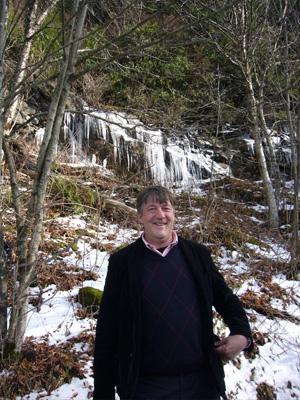 Experiencing global warming first hand. On way to Tennessee North Carolina border in the Gt Smoky Mountains National Park
I suppose I must claim self-interest here. I do think it sensible for us all to respond to the theory of man made global warming and its potentially disastrous impact on the planet as if it were true. But I am also a useless bag of shit, or human being. I will therefore be seen from time to time in a car which isn't an economical planet-pleaser. I will leave lights on. I will forget to recycle. I will travel. I have paid money to carbon trusts who promise to offset the damage my carbon footprint causes, but apparently (according to some at least) this isn't the way forward. It's all very hard and I'm not even sure that I can claim that I do my best. But I am doing my best to do my best. If that sounds weaselly and flabby and cowardly, that's because it is. But I suspect that's how most of us who believe in the threat of global warming are: will we have the courage to vote for a political dispensation that will force through what needs to be forced through and enact what needs to be enacted? I don't know. But I do know that we need more heated arguments around dinner tables and less self-delusion and evasion. Act for the worst and hope for the best. In some ways I am sorry I seemed to make an enemy, on the other I am glad to have had the fierce evening with him. Fierce overheated evenings are needed at evening meals all over the world.
This blessay turns out to have been complicated, repetitive and rather laboriously expressed. I'm sorry for that, and if I had more time I'd go back and smooth it out. Heigh ho.
© Stephen Fry 2007