Unread
Having said all this I have to repeat my confession. I have literally no idea what has been said about me over the past week. When I say that I do not read papers I mean it. For 12 years I have assiduously avoided them, the British ones at any rate. Occasionally I will see an article online, and during the Pope debacle I was sent jpeg images of a front page which alerted me to the besotted and obsessional problems that the Daily Mail in particular has with me and my existence.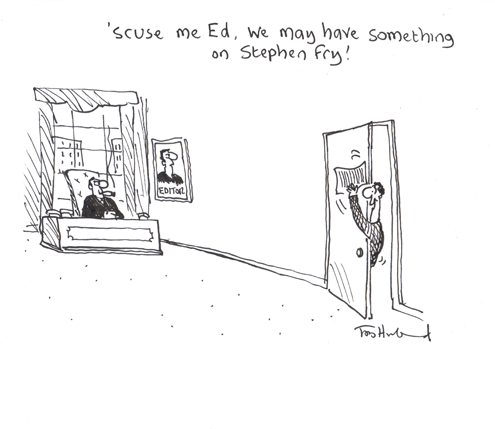 I was made aware by wild flutterings in the Twitter dovecots and incessant sympathetic tweets earlier this week (before I hastily disengaged from the service in order to save myself from more unwelcome details), that the press had picked up on the Attitude article and that all kinds of figures had then expatiated on my lunacy and folly in different newspapers over the next few days. And that this was followed by other papers taking the opportunity to give me the damned good kicking that a swine like me so richly deserves.
You may wonder why I duck out of Twitter at such times: well it may seem pusillanimous but it's really, as I have said, just to avoid being sympathised with or told about an article I would otherwise never have got wind of. I soon enough slink back and before long it's as if nothing happened. Clears the air. Does good on all sides.
So how do I feel about it all? Well, these hullabaloos tend to follow an established pattern. First outrage, then hurt, next amusement and finally the whole thing is forgotten.
And what do I learn from it? Hm. That's harder.
Never ever read any tweets or direct messages sent to you the moment you get wind of a media shit storm brewing
No more print interviews, Stephen. No matter how small and worthy the publication you can't be trusted not to say something that will make you look a tit when reproduced elsewhere.
Pretend you're a politician and only say things after weighing all the consequences and potential offence caused.
Let's be honest, I'll never stick to point 3. I'm probably doomed to lurch from embarrassing moment to embarrassing moment for the rest of my life. Heigh ho.
Fool Britannia
I write this on an aeroplane bearing me to Los Angeles for my annual date with the Britannias, BAFTA's American award ceremony, an evening I've intermittently hosted over the last decade or so. I suppose there might be British print journalists on the BAFTA red carpet tonight and I suppose I might have to find a way to avoid saying something monumentally stupid that finds its way back to Britain. If that's the case … don't let me know. Agreed? Hurrah. We have a deal.
Sometimes I have to pinch myself. I am sitting on an aeroplane writing a blog which tries to reassure the world that I am quite aware that women enjoy sex. No one can say my life isn't unpredictable, interesting and … well, Fryish…
xxx