I believe every great country should have a great capital. Naturally, a metropolis will absorb plenty of resentment and bitterness from the provinces, that's as true of London as it is of Paris and Rome, Washington, Moscow and Madrid. But as a provincial boy growing up in Norfolk, I dreamt of London almost every night as I tried to fall asleep. Reaching it seemed like an impossible dream. I am tired of having to apologise for it. It is one of the wonders of the world.  I love Norfolk no less, nor Yorkshire nor Gloucestershire nor Burnley. But hell, what a city London is.
This is a Britain where metro-hatred and provincial arse-licking has led to such fatuous absurdities as the farcical moving of the entire BBC sports department to Salford months before the Olympic Games come to London. Read that back twice and forbear to weep, groan, roar or wet yourself laughing.
Where does one begin with the BBC's "regionalism"? They destroy local radio but move to Salford to "appease" the North. As if "the North" is one place! Do they think the citizens of Sunderland and Leeds are cheering because there's a new BBC media centre in Salford? I should think even Mancunians are pissed off by it, let alone Geordies or Lakelanders. In-fucking-sane. But don't get me started. Oh – you did.
Takes deep breath. Calms down.
Right…
Central London, like all great capitals, has its grand cathedrals, palaces, memorials, parks, public spaces, fashionable shopping districts and wild Bohemian quarters.
But also, like most great cities, it has its hidden secrets. Tiny little gardens, yards, alleyways, statues, institutions and passageways that maybe just metres away from the thronging concourses of Leicester Square or Cheapside, and yet are as quiet and undisturbed as a village churchyard.
One of my favourite areas of London is St James's, that area bounded to the north by Piccadilly, to the south by the Mall and St James's park, to the east by Haymarket and to the west by the Ritz and Green Park. Of course the very name summons up the worst images of elitism, aristocracy and old-fashioned, self-serving grandiosity. This is London's clubland. Whites, Brooks's, the Carlton Club, Boodles, Bucks, the Reform, the Athenaeum, the Oxford and Cambridge, the Travellers and even Pratt's (it's true). For all but a tiny percentage of you reading this, such places are at best amiably preposterous hangovers from a bygone age and at worst a symbol that Britain is still the same hide-bound, class-bound society it ever was.
I'm not going to go into all that. I'm just speaking of one who loves to wander around. I love to glance up at Blue Plaques and try to recreate in my mind the days of horse: when phaetons, landaulets, berlins, curricles, stage coaches and grand equipages dominated the streets that are now owned by vans, Boris bicycles, motorbikes, taxis and cars.
Let us just look at St. James's Square in particular. Whenever I pass the north east corner I marvel that the memorial to WPC Yvonne Fletcher is never unattended. There are always fresh flowers and hand-written notes. In 1984 a member of the Libyan mission shot and killed her from a window of the embassy during at anti-Gaddafi demonstration which she was helping to police. The murderer got away, such are the laws that govern diplomatic immunity. It is hard not to whisper now, as I pass, "Don't worry. He's gone now." If I thought that way, I would fancy that she is now sleeping more soundly.
Just next door to the ex-embassy is the house where Nancy Astor lived and entertained. It now has an "IN" painted on the left hand column of its portico and an "OUT" on the right hand. This is typical English eccentricity. I'll tell you how it came about.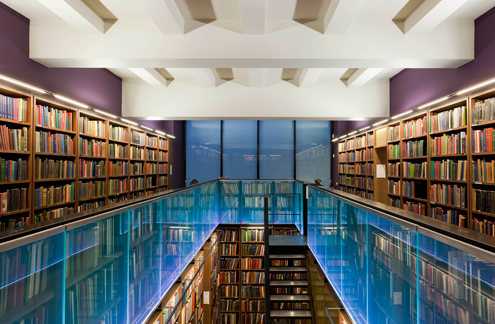 Lord Palmerston, the 19th century prime minister, used to live in a fine mansion on the north side of Piccadilly called Cambridge House. It was so grand it that it had a carriage sweep, with one gatepost marked IN and another marked OUT to prevent collisions and assist the flow of arrivals and departures. After Palmerston's death the house was sold and turned into a club, called the Naval and Military (not to be confused with the Army and Navy or United Services or Cavalry Club, oh no siree. This is clubland, nothing's that simple). The Naval and Military club's nickname, on account of the gateposts, was "The In and Out".
Fast forward many decades and the Navy and Military moves to Number 4, the old Astor homestead in the North east corner of St James's Square (by the way, note that it is always St James's ­– never just St James). These new premises have no carriage drive or gateposts, but the Naval and Military painted up a completely meaningless "IN" and "OUT" either side of the front door just so that it can keep its affectionate nickname. Batty but  somehow adorable.
Even battier is the name of just one of the other clubs in St James's Square. The East India, Devonshire, Sports and Public Schools. I mean, what? You couldn't make it up.
Elsewhere it's all a bit corporate. BP have their HQ there as do Rio Tinto Zinc and other so-called "blue chip" companies. The address still has great cachet around the world.
On the north west side is Chatham House, Britain's leading foreign office think tank. William Pitt the Elder (later Earl of Chatham) lived there. You may be familiar with the "Chatham House Rule", a protocol agreed at meetings between politicians (or indeed businessmen or any other group of people). The rule is understood to mean: "whatever is said here can be repeated outside this room, but you can not say who said it or who was present at the meeting." They use this phrase around the world now I believe.
But I want to concentrate your attention to the building in the north west corner, between Chatham House and the afore-giggled-at East India, Devonshire, Sports and Public Schools Club.
The London Library.
The London Library is, I believe I am right in saying, the world's largest independent lending library. Which is to say it is not affiliated to a university, it is not owned or subsidised by any local council, by government or any public body. It was founded by, amongst others, that monumental man of letters Thomas Carlyle. The list of current and past members is astonishing. Darwin, Dickens, Gladstone, Thackeray, George Eliot, Virginia Woolf, Winston Churchill, Agatha Christie, Rudyard Kipling, J. B. Priestley, T. S. Eliot … and these days members include its president Tom Stoppard, and writers like Sebastian Faulks, A. S. Byatt, Claire Tomalin, Simon Shama and, even, er, me.
You wouldn't believe that its modest entrance (well I agree it's a grand address, but there is a more discreet back door in Mason's Yard behind) could reveal so remarkable and beautiful a building.
There are fifteen miles of shelves containing over a million books dating back to the very beginning of printing: you can clamber across the marvellously mysterious original 1890s catwalks and gantries or luxuriate in the light and modern Art Room. They never throw a book away and there are NO FINES! You can keep a book as long as you like or until another member asks for it, in which case a polite letter will ask if you could return it at your earliest convenience.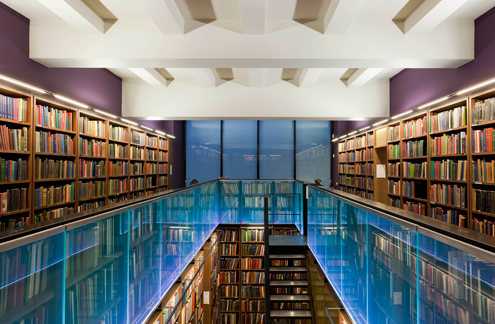 You don't have to live in London, in fact a third of the over 7,000 members live outside the city. There's a postal loans team who'll send you the book you want, and there are unique internet archives (including every past edition of the Times newspaper as well as dozens of scholarly journals and databases).
One of the miracles of this unique institution is the quality of the staff. They seem to know where everything is and will hunt down what you're after with zeal and good humour. Some of the cataloguing is inspired. The Science and Miscellaneous collection is especially highly prized. Books about Coffee, Explosives and Dreams jostle happily alongside works on Home, Duels, Yachts and Cheese.
You can bring in your laptop and find just the cranny, desk, table or sofa where it best suits you to work, study, chase ideas or dream.
The London Library is one of Britain's best kept secrets. Because it's private there is an annual fee, which is reduced for young people, but which I won't pretend is a small consideration. Nonetheless the advantages are enormous and just think what a present it would make for someone you love. Subscription to a place that can become a mixture of college, West End Club, snug, den, writing room and welcoming island – and all just a stone's throw from Piccadilly Circus.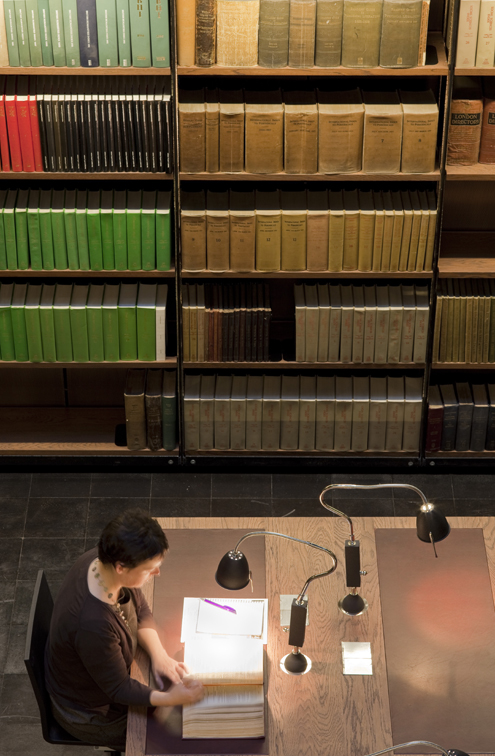 I know that municipal libraries are feeling the pinch horribly. Feeling the punch might be more accurate, right in the solar plexus, and of course many of us are anxious to believe that public libraries have a real future in the internet age. The London Library may seem like an elitist enclave, but actually it is just another example of what great cities can achieve over time and can keep alive with care and continuity. Its existence isn't a threat and never has been, to public libraries, or to the great British Library in St. Pancras. It costs no more than many gyms, and what gyms can do for your body, this magical place can do for your mind.
If the subscription is beyond your reach I'm sorry to have tempted you, but maybe it won't always be thus, and maybe you can save up or hint to an aunt or uncle… there are student prizes offered too.
Anyway. I have no vested interest in getting you to join other than the enthusiasm that anyone who enjoys something is anxious to communicate.
x
Stephen Fry
Their website is London Library and, bless them, they're on Twitter and their Facebook page is http://www.facebook.com/pages/The-London-Library/198017356050 You can also Email: visits@londonlibrary.co.uk for news of free guided tours.