Stephen Fry: I Skype, you Skype, he/she/it Skypes, we will have Skyped, they would have been Skyping
Column "Dork Talk" published on Saturday 13th September 2008 in The Guardian "Save yourself a packet on mobile calls" – The Guardian headline.
Every once in a while a proprietary device or process strikes it lucky and becomes The One. A combination of apt nomenclature and mass-market penetration will allow it to achieve the ultimate accolade of being used as a verb – we have been Googling for the best part of a decade. But who would have guessed that a company from Tallinn, Estonia, might join this elite group? But I Skype, you Skype, he/she/it Skypes, we will have Skyped, they would have been Skyping.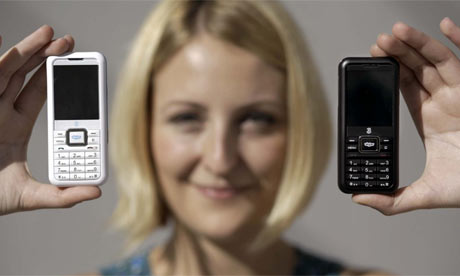 3's Skype phone
Skype is the best known of the VOIP services, utilising the Voice Over Internet Protocol to allow anyone with a net connection to make free calls to other Skype users. You can also top up a Skype account via credit card or PayPal to get a SkypeIn number, and make and receive local and international calls, taking advantage of all that bandwidth at a fraction of the price your home telecoms company would charge. On top of this are Skype's videoconferencing and instant messaging services, akin to iChat, AIM, Jabber and Windows Messenger.
Wi-Fi Skype phones have been around for some time, so you don't have to be tied to your home or desktop when Skyping. They connect to a wireless network without the need for a computer. The Belkin WiFi Phone for Skype is an excellent and serviceable example.
But what if you prefer to take advantage of all the savings your Skype account allows without having to search around town for wireless hotspots? A mobile phone with Skype capability, surely that is the way forward? Well, upwards of 50 have been capable of Skyping for some time now, with workarounds for BlackBerry and Windows Mobile, but there has been nothing quite like the new 3 Skypephone S2, an all-singing, all-Skyping mobile from Skype in partnership with Hutchison Telecom's 3 Network.
The S2 is a small, neat unit, manufactured by the Chinese company Amoi. Along the bottom of its bright, clear screen parades a line of familiar icons that allow instant access to Google, Facebook, Windows Messenger and, of course, Skype. It is the work of a moment to input your Skype username and password, and have your buddy list come up and integrate itself instantly with the phone's address book. You are Skyping in seconds.
You might think that such a phone is all about the nature of the network contract. If you have an all-you-can-eat data package, then Skyping looks like a good deal, but if you are charged for your 3G data access pro rata then large bills could be racked up that render the whole thing a waste of money. Well, startlingly, this phone can use standard GSM for its Skype functionality and all calls between Skype users are free. This is true Skyping. You can be out of reach of a 3G or GPRS mast and still Skype away to Sidcup or Sydney.
What about email? Well, the S2 isn't a smartphone, but there is a solution: it operates with fabulous ease as a USB dongle modem. In other words, when you connect it to your PC or Mac, modem drivers mount as an install package and then it is, as they say in America, "a snap" to access the internet on your lap or desktop, at 3.6MB access speeds in a 3G area. On-the-move connectivity that doesn't depend on wireless networks or ad hoc "tethering": a superb feature beautifully implemented.
This phone replaces Skype's original foray into the mobile market, the S1, and is trimmer, smarter and more feature-laden than its predecessor. The 3.2mp camera is barely more than adequate and the video frankly ropey, but aside from that there is little to carp at. The Google suite of Search, Mail and Maps is useful – though when I tried to use the latter I was given the message "Sorry, Google Maps does not work on your Amoi 8512", which I am charitably assuming is a glitch with the pre-release model. A crisp QVGA display allied to a happy thumb-feel keypad makes for a desirable and admirable phone that could save you hundreds of pounds in calls.
Acronym of the week
QVGA Quarter Video Graphics Array, 320 x 240 resolution display common on phones and other small devices.