Stephen Fry explains the suitcase of cables he takes with him when travelling
Column "Dork Talk" published on Saturday 18th October 2008 in The Guardian "Dork Talk" – The Guardian headline.

It's farewell for quite a few months, I fear, as I head off to Africa, Mauritius, Indonesia, New Zealand and the Sea of Cortez to make a documentary about disappearing species. I shall be out of reach of broadband, mobile phone and even landlines for much of the time. That will not stop me from taking a suitcase full of cables, chargers, memory cards and connectors, however, and I thought I might, by way of valediction, give you an inventory of what this particular dork packs when he travels.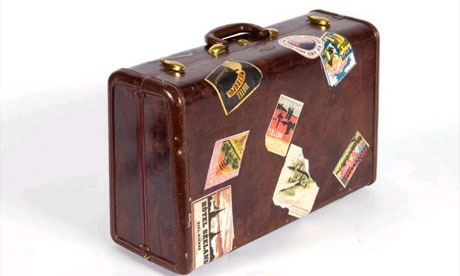 Photograph: Alamy
First of all, should all else fail, I will make sure that there's at least one of Trevor Baylis's products in my bag. Baylis, you may remember, pioneered the wind-up radio. On the eco-gadget site biggreensmile.com you can find his company's practical and hardy hand-crankable media players, the latest (the Eco Media Revolution) offering radio, video, music, photo, text, phone-charging, memo recording and storage in most of the useful formats and codecs, all for £129.99. One minute of winding makes for 45 minutes of play, that's the promise: a big British bargain. The same site has a Freeloader solar charger for £24.95 that will help with juicing up all my gadgets when I'm too hot and knackered to crank.
I shall also take my iPhone 3G, without which I'm pretty much an empty vessel these days, but I will bring along a collection of sim cards, too, and my unlocked first generation iPhone, which can run on any network, in case there's a signal that the official iPhone can't receive. Because they're so colourful, pretty and neat, I will also pack one of the new iPod Nanos: they combine the old Nano clickwheel and anodised metal finish with a new-style accelerometer, so you can shake it to shuffle songs and turn it sideways to watch music and flick through album covers.
As for reading, well, I have a Sony eReader, a Kindle and an Iliad, all dedicated electronic book readers, but the fact is, the iPhone has already proved itself (according to Forbes Magazine) the most popular ebook reader on the market. Nearly half a million people have downloaded the free Stanza application for iPhone (from the iTunes store). Via Stanza files, just about all the classics in prose and poetry can be easily downloaded and read clearly and easily on screen. You can transfer Kindle and pdf files from your desktop, too, so a vast quantity of books and newspapers is available. Electronic books are made (as the name suggests) of electrons, which weigh nothing; whatever one's view of the feel and qualities of a proper book, when travelling, zero ounces of electron is better than the heavy molecular mass that makes up the real thing.
For photography I shall take the Canon 1000D I reviewed the other week, enraging loyal Pentax and Nikon users, for which I apologise: if Canon didn't exist, I'd be a perfectly happy Nikon/Pentax/Minolta user. I shall also pack a Sony Cybershot-W170, a competent all-round compact digital camera. I would rather take the slimmer and cuter Casio Exilim, but it has a complicated recharging station that takes up too much precious packing space.
Cables, of course, are the bane of any globetrotting geek's life, and while there seems to be no perfect solution to the misery of self-knotting spaghetti, I am taken with the ease and simplicity of the Proporta magnetic cable tidies (£2.95 for a pack of two, from proporta.com). The same outfit's Gadget Bag (£24.95) will house my Nintendo DS Lite, dozens of game cartridges and the phones and iPod. As for laptops, I shall flip a coin to decide whether to take a MacBook Air, the lightest of the MacBook range, or the Livono ThinkPad X300. Whichever I choose will come preloaded with as many films and TV shows as I can download. Their weightlessness will save me having to lug DVDs about.
Thank you for reading this column over the past few months. I apologise for errors and inconsistencies. Yes, I believe in Open Source and Free soft-ware, but I'm too much of a fanatic to be pure about it. I like to try everything, even if it's proprietary and closed. And I like to share what's out there with those who are less assured in the digital world. By the time I get back, who knows what goodies and innovations will await me?