Well my goodness me what an extraordinary response there was to #oscarwildeday
For those who didn't participate or might have been away or not yet following me, December 1st was designated #oscarwildeday. I promised prizes for those who tweeted the best original or made up Wildean remarks or posted pictures of themselves or others in Wildean poses.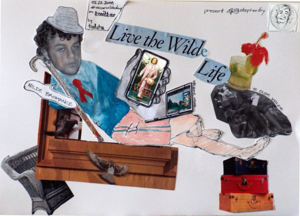 Collage by @taluta © Tatula 2008
It has been an unbelievably time-consuming but pleasurable task to find winners. I'm sorry it's taken so long, but I landed in New York on the day itself and have been busy ever since.
The three categories then are
1. Original Wildeisms,
2. Creative Manglings
3. Pictures
There are two winners in each category. The prizes, of a value exceeding rubies, are vouchers for a free download of my readings of Oscar Wilde short stories: download details on iTunes or http://www.stephenfry.com, follow links. Winners should email Andrew Sampson to claim their prize or send him a Tweet @sampsonian
1. Original Wildeisms.
A difficult category this because many were wonderful but perhaps just too well known (although I accept that this is a matter of opinion). "We are all in the gutter, but some of us are looking at the stars," for example. Other epigrams and aperçus are attributed to Wilde without any written evidence that I know of. "America is the only country to have gone from barbarism to decadence without the intervening stage of civilisation," for example. I have heard that attributed to Shaw and Clemenceau amongst others. I know of no authoritative source that proves it to be from Wilde's lips.
@david_fanning, @jane_doh @LarryDan" @Samyogita and @IchBinNichich all tweeted "Most people are other people. Their thoughts are someone else's opinions, their lives a mimicry, their passions a quotation," one of my favourites. @hallakol tweaked the tweet a little by rendering it "Most people are other people. Their tweets are retweets, their lives a mimicry, their passions a quotation."
Another favourite is "Every saint has a past and every sinner has a future," but so many tweeted this that I had to look elsewhere.
In the end I have chosen the two below.
@loris_sl Prize 1
"All bad poetry springs from genuine feeling."
An absolute truth. It is one of the tragedies of reading other people's poems. It is so hard to criticise bad verse because, as Oscar points out, they always come from the heart. Which is not make the false leap of thinking that this means all good poetry is insincere: that would not logically follow at all, it would be a copy book example of a false syllogism. @Loris_sl, incidentally, was probably the most prolific submitter of tweets on #oscarwildeday, so I am pleased a prize should heading his/her way.
@ladyrasta Prize 2
"The true mystery of the world is the visible, not the invisible."
How I wish mad new agers and the daftly superstitious realised that truth.
2. Creative Manglings
Naturally I was tempted to reward @urbanape's "Stephen Fry played me best; even better than myself" but modesty won the upper hand, as it did with @fryphile's wonderful parody of The Ballad of Reading Gaol, which incorporated a reference to my accidental bodypart tweetings which many followers will know about.
Yet each man tweets the thing he loves
By each let this be clear,
Some do it with a new iPhone,
Some with a PC, I fear,
The nipple does it on its own,
The groin with Vermeer!
I liked @diskgrinder's "I can resist everything but smack, crack, ketamine, methamphetamine and buckfast, oh and tenants, blue nun and dettol" because it was just so silly. That's true of too many entries to mention, @ohsnapitskyle's "Pee pee, wee wee, and doo doo" not being the least amongst them
The winners however, are:
@jim_herd Prize 3
Had Oscar been alive today, I'm sure he'd've put the wit in twitter
and
@mygulamali Prize 4
His epitaph today: "For his twitters will be outcast men, And outcasts always tweet."
3. Pictures.
There were some marvellous pictures submitted. Very hard not to give a dozen prizes here.
@euripidean gave us http://twitpic.com/pf5u
@Michael_Elliott found an unlikely graffito in the Pacific Northwest http://twitpic.com/pg1t
@miche wore a green carnation http://twitpic.com/phre
@zachhh made a charming poster http://twitpic.com/pek1
But the winners are
@lovelykatherine Prize 5
http://twitpic.com/pgui An excellent Wildean pose
and
@taluta Prize 6
with the wonderful collage, perhaps my favourite of all the posts on #oscarwildeday
I'm sorry if you haven't won and feel you should have done. The day was a resounding, an astonishing success, testament to Wilde's enduring reputation and the amazing, touching and blissful creativity and wit of all of you. Many many thanks.
x S