Nicole Stewart, the wonderful talent responsible for the graphic design of my website, has come up with some (IMHO) magnificent T-shirts which we hope will appeal. We are selling them through mysoti.com and if you have any issues regarding pricing, ordering and delivery you can be in touch with them direct via ask@mysoti.com or tweet @mysoti where Steve will be happy to help you out. Prices are determined automatically by location and currency. Plenty of t-shirts on the market are cheaper than ours, but plenty are more expensive too. We think, given the work behind the design, that the price we've settled on for our shirts is fair and reasonable. I trust you'll agree. If not, don't worry. The option not to buy is also available (while stocks last).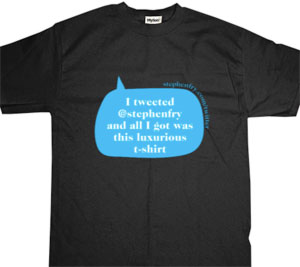 I Tweeted @stephenfry T-Shirt © Samfry Ltd 2009
This is certainly not about me profiting from my net presence. The volume of traffic that my website receives costs me a great deal. The more who visit, the more I pay for hosting: this is an ineluctable law that many may not be aware of yet which, on further thought, is inevitable. The running costs are rising monthly. I don't complain, but I would like my site to come reasonably close to paying for itself. I should hate to have to close it down simply because so many people visited it. I have too a matchless team of designers who need to be paid a proper reward for their creativity, industry and commitment.
I hope you will find the opportunity proudly to own and wear one of these t-shirts a merry part of the ceaselessly splendid pleasures that the Worldwide Web, Twitter and the digital age has brought us. Pleasures we continue to share with such never ending wonder and surprise.
x Stephen
© Stephen Fry 2009